Need The Most Fabulous Attire for Your Performance?
Noka Posh will provide you with a quintesessential design experience.
Why order from a catalog or be limited in your choices, when you can have an experienced Fashion Designer personally create the outfits exclusively for you and your group?
Tatjana will personally design your pieces to perfectly suit your theme and performance,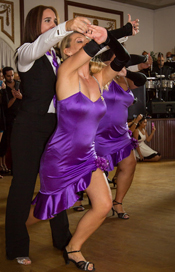 create patterns and samples for your approval, and communicate with you every step of the way, to make sure you are 100% satisfied. We have created a process that focuses on our customers enjoying a glamourous experience.
Set Your New Trend With Noka Posh
To develop a complete and polished look, included in this process is Tatjana's fashion forward styling advice.
Every one of our customers receives this exclusive, celebrity treatment at affordable prices typically reserved for ordinary catalog pieces.
We work with a variety of fabric suppliers to provide you with the latest and greatest selection of high quality, unique fabrics. Our pieces are produced in the USA, with a team of highly skilled and experienced professionals.
A Special Performance Deserves A Special Perspective
We know how passionate you are about your performance. Allow us to add the finishing touches and make it a masterpiece!
Before you make your choice, contact us for a free consultation and prepare to be WOWed.
Group Photo Gallery